All utility billing as well as public records of assessing, cemetery management, current tax, and delinquent personal property tax can be found on our municipal dashboard below.
Online Bill Pay & Records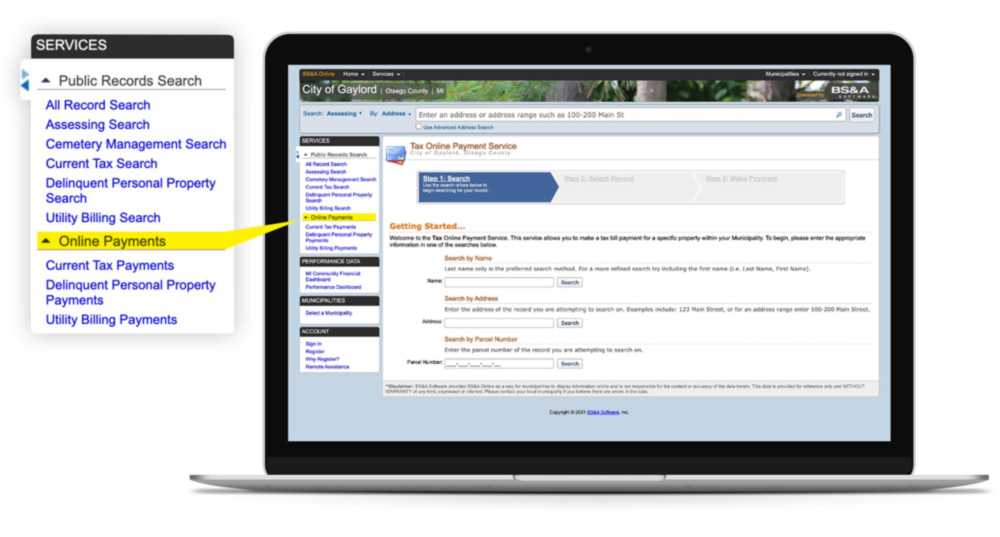 You can register to vote at the Secretary of State's branch office, the County Clerk's Office, or the City Clerk's Office.
The City of Gaylord is part of the State Wide Qualified Voter's File (QVF). This voter's file works in conjunction with driver's license records. Effective April 1, 2000, Michigan law requires that the same address must be used for driver license and voter registration purposes. Therefore, if the residence address you provide for driver license/personal I.D. card purposes differs from your voter registration address as it appears on the Qualified Voter File, the Secretary of State will automatically change your voter registration to match the residence address on your driver license/personal I.D. card, after which your voter registration at your former address will no longer be valid for voting purposes. A new voter registration card, containing the information of your polling place, will be provided to you by the clerk of the jurisdiction where your residence address is located.
Some situations, such as a voter who has moved or changed his/her name, could cause the voter's name to be inadvertently removed from the QVF precinct list. The Clerk's Office maintains all voters in a master card file and is checked when missing voters are brought to our attention. If you have not voted within the last few years, please call the Clerk's Office to check that you are registered and entered correctly into our system.
If you are not sure if you are registered to vote, please call the City of Gaylord Clerk's Office at 989.732.4060.
When and where do I register to vote?
You can register to vote at anytime at the City Clerk's Office, County Clerk's Office, any Secretary of State branch office, and designated state agency offices.
If you are not sure if you are registered to vote, please call the City of Gaylord Clerk's Office at 989.732.4060.
I'm not sure if I am registered, how do I find out?
You can call the City Clerk's Office and they will be happy to check for you. Keep in mind that there is a registration cut-off date of 30 days prior to an election, so make sure you give yourself sufficient time to register in case you aren't. To be eligible to vote in an election, you must have registered at least 30 days prior to that election.
I've moved – where do I vote?
If you have moved within the city and have not changed your registered address, you vote at your old precinct and fill out a change of address form. You will receive a new voter identification card with your new precinct location.
When you move out of the city, you must register in your new city or township. If the move was within 60 days of the election, you are entitled to vote at your old precinct; but you must sign a cancellation form at that time. 
Also helpful is the Secretary of State's new voter information website:  www.michigan.gov/sos
I've misplaced my Voter Identification Card, am I able to get a replacement even though I have not moved?
Yes, contact the City Clerk's Office and ask them to verify that you are currently registered and if you are, ask them to mail you a new Voter Identification Card.
Read about this year's projects, plans, reminders, and noteworthy events. Click the link to download.
Visit some of the best nature parks that Michigan has to offer.
Enjoy 100 acres of the best scenery in Northern Michigan at Aspen Park with its nearly two miles of paved trails, used in the summer by bikers and hikers. Or get acquainted with the largest elk population in Michigan within their natural habitat at Elk Park. Looking for a great picnic spot? Take the family and kids to Doumas or Feel Park.
Situated in the City of Gaylord, the County of Otsego, the State of Michigan, Fairview Cemetery is located on the northeastern corner of North Ohio Avenue and Fairview Road.
Although there are records indicating that cemetery lots were sold as early as 1892, it was not until May of 1897 that the original 30.0 acres of the cemetery were purchased by Livingston Township from Frank Calkins, Charles Haight, and Nellie Haight, his wife. The purchase price was $650.
There are four tombstones dated as early as 1881, 1883, and 1884. It is possible, however, that these individuals were transferred to the new cemetery from somewhere else.
The ownership of the cemetery was transferred to the City of Gaylord by court order on May 26, 1944.
Located at the corner of Otsego Avenue (Old 27 South) and Grandview Boulevard in the City of Gaylord, the County of Otsego County, the State of Michigan. It is one of the oldest cemeteries in the county and was originally called the Bagley Township Cemetery. It is now owned and maintained by the City of Gaylord.
Nowhere in Bagley Township or the City of Gaylord was there a record of the burials. The burial records on file were obtained directly from the tombstones and grave markers, some of which were so old and deteriorated that they were unreadable. A number of graves have no markers at all. Additional information was obtained from death certificates. Burial records are as complete and accurate as possible.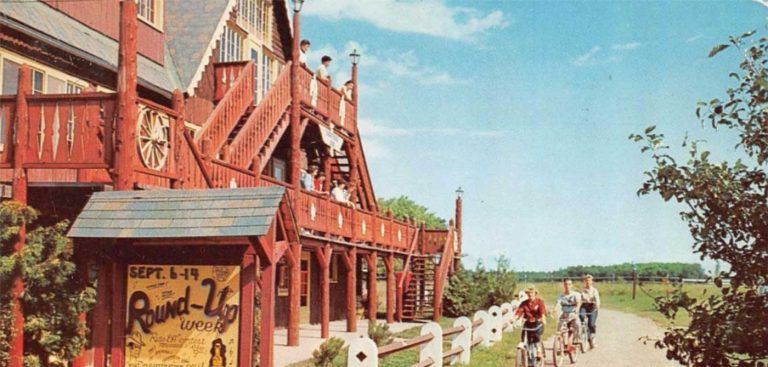 The History Gaylord & Otsego County
First named Okkaddo in 1840, this county was renamed Otsego in 1843 after a New York county and lake of that name.
It is said that Otsego means "clear water." Settlement did not begin until the late 1860's when lumbering was started.
Otsego Lake, the first village, was founded in 1872 and became county seat in 1875 when the county was organized. Settled in the year 1874 by the Jackson, Lansing & Saginaw Railroad, the new community was named for Augustine Smith Gaylord, an attorney for the railroad and named county seat in 1877. Farming and the tourist industry are now the chief businesses.
Driving Tour of Otsego County
The first white settlers moved into the county in 1868 for the purpose of lumbering. White Pine and hardwoods lured people into the area. Farming also has been important to Otsego County, potatoes being one of the leading crops.
You'll take pleasure in a drive around Otsego County to visit some of our historic sights. Pack a picnic to enjoy at Irontone Spring located just a few miles north of Gaylord on US 27 North. The park is named for the iron in the spring water which gives the rocks a rust red color.